Portfolio of WordPress websites
On this page you can see in my portfolio some of the WordPress websites I have already created for other clients. These websites run on the most recent version of WordPress and are built with up-to-date templates. Do you have a corporate identity? Then of course I will take that into account. I also take care of things like a contact form, spam protection and give you a clear explanation on how you can adjust things yourself when the website is delivered.
Clouvance Consultancy
For Clouvance Consultancy, owned by Léon Spijkers, I have built a multilingual website. The texts were written and translated together with a copywriter and two translators. The homepage has a movie as background. The website is built in WordPress with the WPML plug-in.
You can view this website via:
https://www.clouvanceconsultancy.com
Buro-T
For Toon Gevaert from Belgium, I gave the website of his translation agency, Buro-T, a new, fresh look. In collaboration with a fellow SEO expert, I have optimised aspects such as texts, menu, layout and more. The result is a sleek, clear website.
You can view this website via:
https://www.buro-t.be
Rob Laumen
Rob approached me to put his old website in a new WordPress jacket. The website also had to be available in German and English. In collaboration with several translators, the texts were professionally translated and made available on the website via WPML.
You can view this website via:
https://www.roblaumen.nl
Eijck ZorgSupport
This is the website of Diana van Eijck. She approached me because she was about to start a new business (supporting caregivers) and needed a new website to promote her business. We built this fresh and informative website for her.
You can view this website via:
https://www.eijckzorgsupport.nl
Lengua Viva
For our customer Karin Rijf-Molenaar we built a multilingual website with the languages Dutch, English and Spanish. In close cooperation with our copywriter, Rachel Warmerdam, we have created attractive content for the website, combined with a colourful design.
You can view this website via:
https://www.lenguaviva.nl
ASL Vertalingen
Mrs Anja Schuitemaker-Loh came to me asking if I could build an attractive, SEO friendly and fast loading website for her. I was of course in for this challenge and built her this website. It loads fast and it features both Dutch and German content (a multilingual website).
You can view this website via:
https://www.asl-vertalingen.com
The Traveling Translator
In this project I worked closely with the client, Silvie van de Zee. With a copywriter and designer she already had a very good idea about her new branding and corporate identity. After a briefing I set to work on converting this corporate identity to a suitable website. The result is a perfect expression of her new brand, The Traveling Translator.
You can view this website via:
www.thetravelingtranslator.com
Fysio Moniek
Clearly structured website for Physiotherapy Moniek van Gilst. A website where you can quickly find information about the services offered in the field of physiotherapy. All treatments are neatly presented on an overview page.
You can view this website via:
https://www.fysiomoniek.nl
Westerwald Vertalingen
Westerwald Vertalingen delivers expertly translated texts, is punctual and translates your texts into understandable Dutch. Guus Reichgelt was looking for someone who could design a website to match his house style and colours. Naturally, I was able to help him with that and we enjoyed working together on this new, smooth website for Westerwald Vertalingen.
You can view this website via:
www.westerwaldvertalingen.nl
Clara Kozijnen
A project to draw attention to a new kind of window frames. With a fresh font and in the customer's house style in terms of colours. With beautiful high-resolution images, a slider at the top to emphasize the atmosphere and function of the windows. On the product page also an embedded video so that visitors can view and listen to the functions and advantages of these new window frames in images and sound.
You can view this website via:
www.clarakozijnen.nl
Confer
In close consultation with our client, Steven Segaert, I have revamped his website. I also moved the website to a new hosting provider. This makes the website load much faster. Tip: listen to Steven's interesting "Translation podcasts" (in Dutch) about his experiences as a translator!
You can view this website via:
www.confer.eu
Pedicurepraktijk Kuiters
You don't have to worry that a new website will take a lot of effort. For Pedicure Practice Paula Kuiters, for example, I provided the renewed website. With a fresh, stylish look that suits the new location where the practice has moved to.
You can view this website via:
www.pedicurepraktijkpaula.nl
Qiangsheng
Qiangsheng Industrial Trading is a company from China that makes metal parts and tools. For their European activities the company has opened an office in Eindhoven. They wanted an English-language website to provide customers in Europe with information.
You can view this website via:
www.qiangsheng.nl
De Langen
A colorful website that I designed together with the client, after exchanging some ideas and concepts for the new WordPress website. Equipped with a contact form and elements that appear while viewing the page (fades).
You can view this website via:
www.delangenlanguageservices.nl
Juridica Translations
Erica Tegelaar is an experienced lawyer and sworn translator. For the latter capacity, she wanted a modern website to offer her translation services to potential clients. The website has a unique, clean design and is available in Dutch and English.
You can view this website via:
www.juridicatranslations.nl.
GB Legal Translations
This WordPress website is also executed in the colours and patterns of the client's corporate identity. In the background you see the company logo. The website is compact with the necessary ways to request information via social media or the contact form.
You can view this website via:
www.gblegaltranslationsandmore.nl
Two Integrate
The best match. But for interim and recruitment & selection. That's what this Two Integrate website I built is all about. But also for Two Integrate BeeWebdesign was the best match to have the new website built in WordPress.
You can view this website via:
www.twointegrate.nl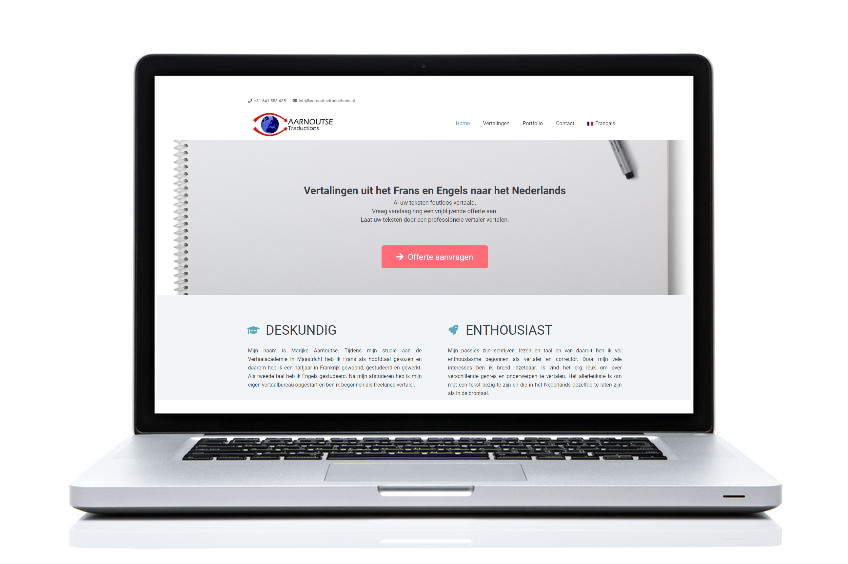 Aarnoutse Traductions
For Marijke Aarnoutse I made this website, which had to be simple and sleek. By using some shapes and colors the website doesn't get a boring look. Moreover, the website is bilingual: French-speaking visitors can also view the content in their own language.
You can view this website via:
www.aarnoutsetraductions.nl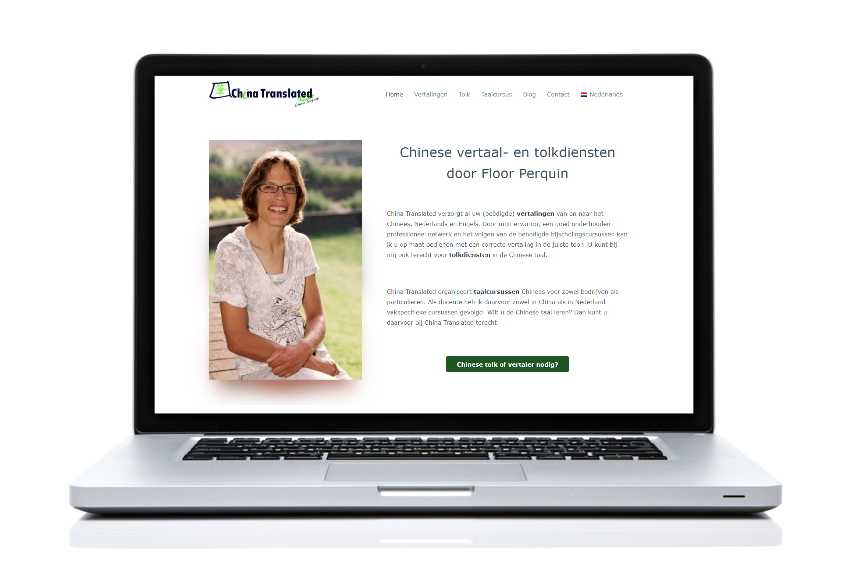 China Translated
After our client, Mrs Perquin, was in need of a new website for her translation activities, she came to BeeWebdesign. I helped her with a new version/lay-out of her website, where of course the backend (WordPress, template, plug-ins, etc.) is completely up-to-date and secure again.
You can view this website via:
www.chinatranslated.nl
Portucale Vertalingen
Mrs. Florindo had a website in the past, but now she wanted to actively work with her company again. The new website has a sleek layout with straight/angled shapes, with clearly legible texts and contrast in the use of colour. Because of the use of images (several pictures of Portugal) the website looks attractive.
You can view this website via:
www.portucale-vertalingen.nl
Michel de Goey
This is the website for Michel de Goey, a translator specialized in complex content and German/English to Dutch translations. Fortunately, he didn't need complex website building knowledge for this website, because I could serve him very well and he could concentrate on his own work.
You can view this website via:
www.micheldegoey.nl
Kalligram Translations
A stylishly designed website with the right information for the visitor and potential customer. This WordPress website is implemented in two languages, again using the WPML multi-language plug-in. As with BeeWebdesign, reliability and customer-friendliness are paramount at Kalligram Translations (in addition to thorough expertise, of course).
You can view this website via:
www.kalligram-translations.com
Elsbeth de Jager
Elsbeth de Jager has been working as a translator, author, editor and reviewer since 2003. She also has years of experience as a teacher/language trainer of German, teacher of Creative Writing/Writing Coach and teacher of NT2. I created a new website for her on which she can post recent work and reviews.
You can view this website via:
www.elsbethdejager.nl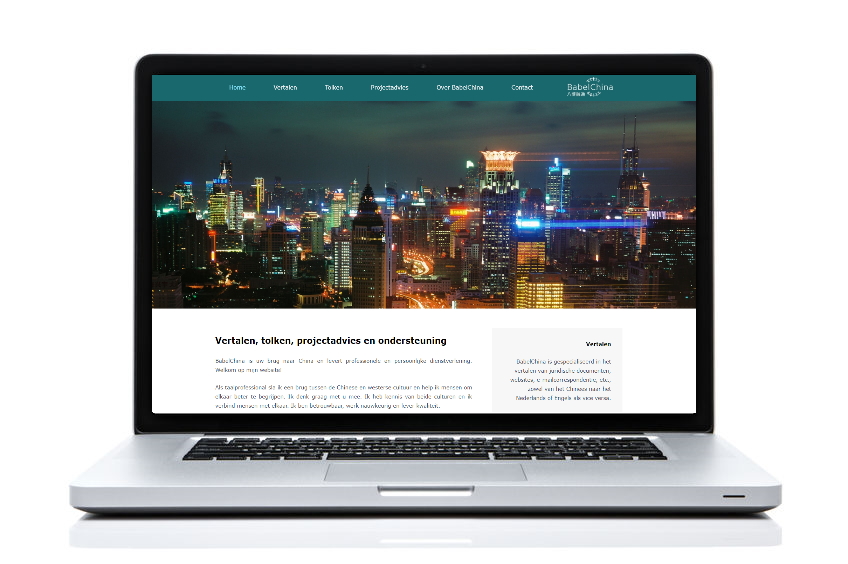 BabelChina
Website for interpreter and translator Janske van Dun-Vrijsen, in the colours of the client's corporate identity. A compact WordPress website with, of course, a contact form and concise background information on BabelChina.
You can view this website via:
www.babelchina.nl
Ready to order your new website?
Contact me today to recieve your quotation and discuss your new website.